About Alfred-Andrew Bowen:
License earned at ATI - Career Training Center Dallas, Texas 11/2008- 7/2009 (LMT # 109571)
Passionate and empathetic therapeutic massage therapist
Thorough knowledge of anatomy, physiology, and kinesiology
Understands injury testing and assessment, formulates a treatment plan, and makes recommendations for self-care
Actively engaged in continuing education while earnestly seeking new techniques to improve quality of treatment
Licensing and Credentials:
7+ years massage bodywork experience in therapeutic massage and injury recovery
100 hours of Clinical
6 hour 50 minute Hot Stone Certificate
6 hour Deep Tissue Certificate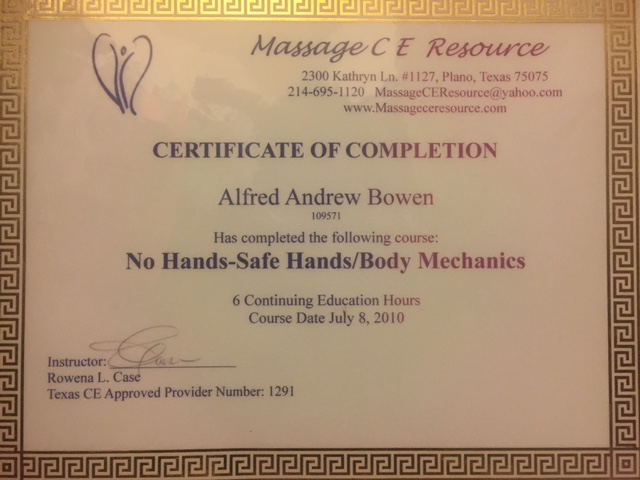 6 hour Iliopsoas and Low Back Referral Points Certificate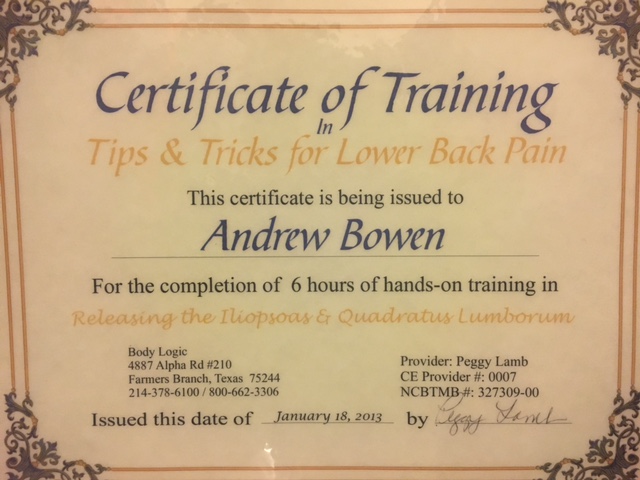 6 hour Lymphatic Drainage Certificate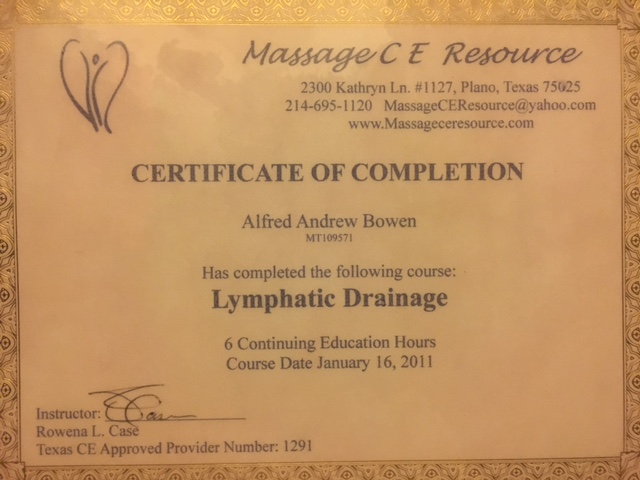 Practice Philosophy:
Soothing Escape was developed to alleviate the cause of muscle tension, not to treat the symptoms.
Describe a recent project you are fond of?:
I have worked with many ranges of people from the elderly inside nursing homes providing gentle compression and Manual Lymphatic Drainage, to working with the children of Our Children's House Of Baylor in Los Colinas observing the physical therapy rehabilitation of the children with; cerebral palsy, recovering from brain tumors, and traumatic experiences that frequented the facility.
A passion in sports and performance training lead to my tenure working with the athletes of Paramount: Strength and Conditioning where I acted as the Clinical Strength Coach, there to prevent injury during /post powerlifting and strongman competition.
What do you enjoy about the work you do?:
I enjoy the satisfaction that when receiving massage on a consistent basis, during every massage we are working to influence positive empowerment of your entire body; from the inside boost of your immune system to the outside invigoration of your muscles.
How does your service stand out?:
When I work with my clients, I ask questions first to hear what you tell me what your body is in need of and then at the beginning of every massage session I take time to balance/center myself to feel where your body is call out to receive work
Schedule Your Customized Massage Session Today
Click To Book Now
Thumb Tack highly reviewed Member: